If only I had a punchline for that …
Earlier this week President W invited his dad, a Nobel Peace Prize winner, the husband of the soon-to-be Secretary of State and the President-elect over for lunch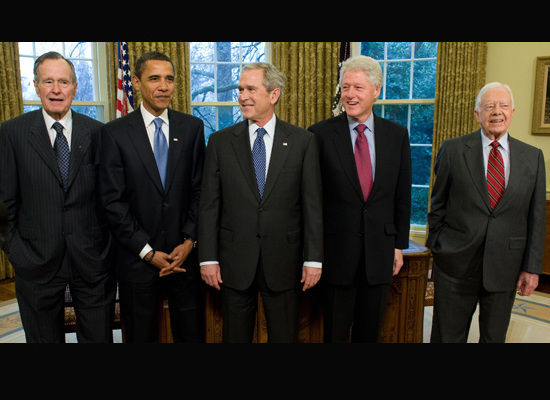 There are two ways to break down the demographics of this photo: 3 democrats and 2 Bushes or 3 blue ties and 2 red ones. Interestingly, tie color does not follow party lines. Obama's light blue tie "is associated with health, healing, tranquility, understanding, and softness." Our country needs healing, so it's a good choice. As we all know red is a bold color of passion and power. Does Clinton think he needed to remind these men of his own power? And Carter? Did he wear that tie during his own presidency? Carter should definitely wear green, olive green "is the traditional color of peace."
OMG WHERE IS BILL'S FLAG LAPEL PIN? He's going to Gitmo for sure. Well, he can take Jimmy with his I guess.
Carter looks a little uninterested in the whole affair. Also, he's standing in the exact same place as he was in this picture. Creepy.
I like this picture. Carter's looking at Reagan like laugh it up jackass (although he's a Southern Baptist so that language would never cross his lips) your best friend is a monkey and I don't mean that chimp from your movies.
Don't forget to win my copy of The Departed you need to leave a comment before 10pm MST today.
completely unrelated to anything … my site was moved to a new server yesterday and I lost some comments, I have them in email and will put them back up in order as time permits